Metricon Homes
Open Sunday, Monday and Wednesday 12:00pm-5:00pm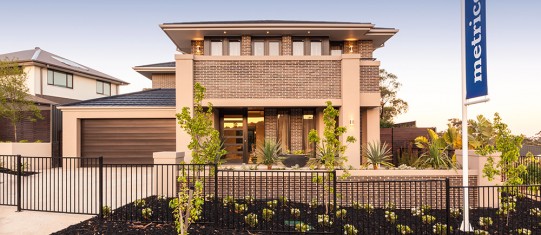 Love where you live…
Over the past 40 years, Metricon has grown to become one of the largest home builders in Australia. We are committed to remaining a leader in assisting you with building your own home, house and land packages, home finance, outstanding display homes and developments.
We do not build houses. We design homes. Homes that celebrate family life in all its wonderful variety.
Through consistently creating and delivering quality and innovative lifestyle developments, we are able to offer innovative, quality homes, superior value and the ultimate customer experience.
We nurture a professional and passionate team committed to the needs of our customers. Not just their need to be guided through the building process, but the need to be treated with courtesy and respect and armed with the knowledge to assist our customers with their home selection.
We are never satisfied until you are. So you can truly 'Love where you live.'
Hampshire 45
The Hampshire 45 is part of the Designer by Metricon range. This two-storey, light-filled and spacious home offers five bedrooms, including a luxurious master suite with balcony, retreat-style ensuite and dressing room. This home is made for entertaining, with a designer kitchen featuring a butler's pantry, an outdoor room, two living spaces downstairs and leisure room upstairs.
Lincoln 29
The Lincoln 29 offers a host of happy revelations for the discerning buyer. Everywhere you look there are clever ideas to enjoy. A sophisticated living room at the front which is just right for greeting guests or as a peaceful parent's retreat or work area. Yes, this is all how it should be.
Glendale 38
The Glendale 38 is a large 2 storey home that fits comfortably on a 14 metre block.  It's amazing modern layout lets you use the whole area effectively, with a huge opulent living area downstairs, and fabulous comfort upstairs.  It re-writes the rule book.
Chicago 55
The great American architect Frank Lloyd Wright believed beautiful homes improve our lives and architecture must serve our needs. His renowned Robie House in Hyde Park USA inspired Chicago, with its wide eaves, harmonious clean lines and finely crafted brickwork. Chicago is a perennial design with a wide portico and imposing brick-faced balcony. It has generous spaces for stylish, comfortable family living.
Contact
Dennis Meaker
M 0403 167 712
E dennismeaker@metricon.com.au