Lares Homes
Open Monday, Wednesday, Saturday and Sunday 1:00pm-4:30pm. Inspections may now be by appointment only, so please contact the Builder on the details below for more information.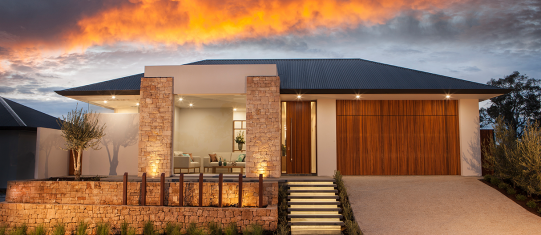 Created by a passionate group of industry leading professionals, Lares Homes is dedicated to delivering the best full service approach to home building.
Our vision at Lares is to be progressive by doing things differently.
At Lares we like to bring design vision and architectural perspective to every detail, creating individual homes to suit the most exacting requirements.
Everything we do is inspired by design, shaped by a full understanding of our client's needs, their ideas and the bigger picture of their lives.
Introducing California House
California House is a re-interpretation of the mid-century modern style of architecture that became so popular originally in the suburbs of California, and later in Adelaide. It is one of the few architecture styles that stands the test of time from that era.
This style is emphasized by glass walls, open floor plans that connect to the outdoors and the extensive overhung roof canopy that appears to float over the glazed walls.
California House offers unlimited flexibility, ensuring personal tastes and lifestyle needs combine seamlessly to create a unique design solution.
CONTACT
P (08) 8274 1360